Tomorrow marks a momentous occasion...a new Renaissance Faire opens!




The NorthEast (of the US) will no longer be Faire-deprived during the loooong Winter months. Tomorrow (Saturday), February 11th, between noon and midnight, Edison, NJ will set the stage for this adult-oriented extravaganza. Fear not, the snow! The Faire will be held in a convention center, and things will be kept plenty heated up, inside. Everything that you love about RenFests will be there (except the dusty trails through the woods), from food to vendors to performers...but the latter two won't have to restrain themselves to "child-safe" show and tell, as it were.

Why am I so excited about this, even though I'm stuck in the wrong part of the country? Because tomorrow marks a momentous occasion for me, as well, since I will be a vendor at said Faire! I won't be able to be there (o, woe!), but some of my jewelry will be. This marks the first time that my silverwork is available to the general public, since up until this point, I have been working purely on a custom-commission basis. I am very, very excited...and very, very anxious. Ok, petrified. But giddy, too. Basically, my brain is a blendered mix of several flavors of adrenaline.

It's an amazing opportunity for me, a heck of a testing ground for my business, and potentially a tiny flash of light at the end of a long, dark financial tunnel, for my family. Or, it could be a disaster. **GULP** I'm trying to keep my thoughts focused on wild n' crazy hopes for selling out, garnering a lot of commissions, and spreading my wonderful reputation. I'm told my work is up to par with or well beyond that of assorted bigwig expensive designers...but they stand a class apart, because their names are KNOWN. Well a Faire will certainly kick up the speed of the word of mouth I've largely been relying on....and if, beyond the adoration and patronage of the masses (ha ha), I can earn the respect and consideration of other Faires, then...Oh! What a happy Rennie I will be! Naturally, all prayers, well-wishing, candle-lighting, good-vibe-sending, and other such goodwill would be greatly appreciated. For a great deal more fun for yourselves, you could think those good thoughts at me while attending the Faire yourselves. Come on...I know some of you are close enough. ;-)

Money and time worked against my sending more, but I still managed to send a decent amount....



First off, I sent one of these DragonMoon Sets (earring/necklace set)...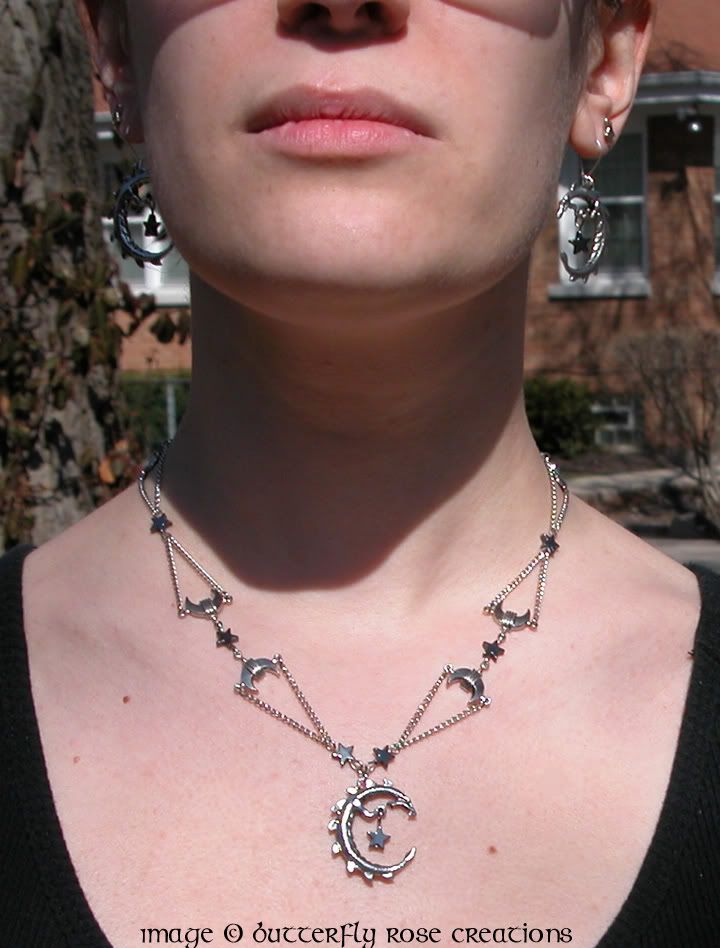 ...as well as an additional pair of the earrings...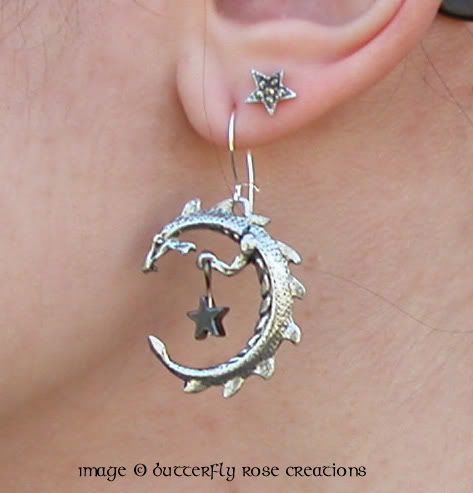 ...except using a blue stone (that I don't recal the name of), instead of the hematite, for the star.

I also sent a Shooting Star Maille Set (earring/necklace set)...




That's a terrible photo, but you can kinda see the earrings. Here's a better view of what the choker looks like...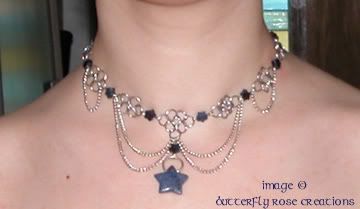 Along with that, I sent the coordinating hand-flower/slave-bracelet...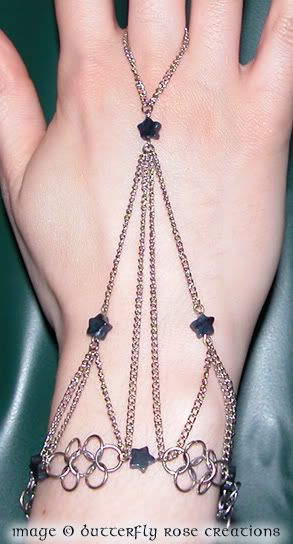 ...but not any of the other coordinating accessories I designed. Oh well..maybe next time.

Most of the work sent was silverwork from my Silver Leaves Collection. These pieces are all hand-made using fine silver (.999 pure) and natural gemstones (except for the occasional CZ), and the designs are based around replicas of real leaves...no two are exactly alike! All the different coloration effects are achieved with a single oxidation chemical. I did something new with these pieces...I made the bails look more bark-textured and branch-like, on all but the viney pieces. I sent twenty pendants. Unfortunately, it's very hard to photograph them, and get both detail and an accurate view of the color of the stones and finish...especially when rushing. In any case, ten of them were small (between one and two inches)...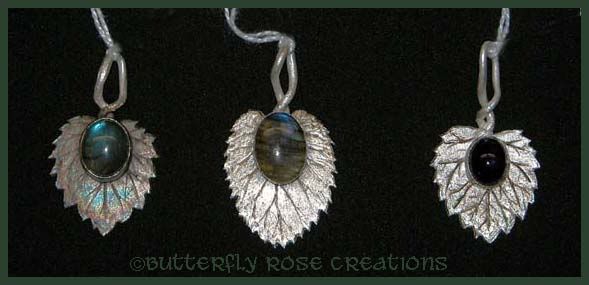 Three "Small, Simple Hearts" -- The first pendant has been given a "natural" oxidation wash (green-brown earthy iridescence overtone to the dulled silver), and is set with a labradorite cabachon. (Labradorite is sometimes referred to as "dark moonstone"...it's a fairly opaque stone with a grey-black base and iridescent layers of flashes of color, mostly in the greens, in the samples I choose.) The second pendant has oxidized veins, and is set with labradorite cabachon. The third pendant has oxidized veins, and is set with an amythyst cabachon.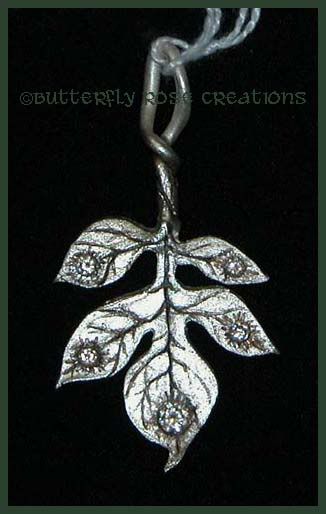 A "Small, Simple 5-Lobe" -- This one has oxidized veins, and is embedded with clear cubic zirconia (CZ).



A "Small Rosebud" -- This one has oxidized recesses detailing the rosebud itself, which is set with a clear CZ. The stems are sterling silver wire, darkened with oxidation. The leaves have been oxidized to mostly green tones.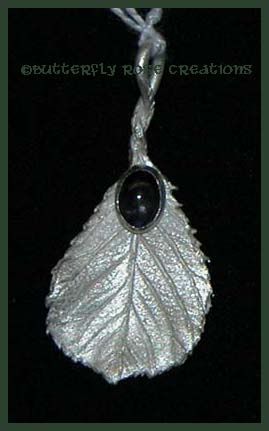 A "Small, Simple Rosebush" -- No oxidation on this one, it's the very light and bright natural color of the fine silver. It's set with spectrolite (another stone in the moonstone family...spectrolite has a grey-black base with a blue-purple "glow").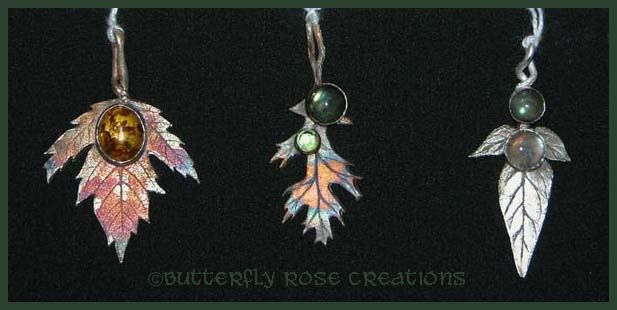 The first pendant, a "Small, Simple Maple", has been given an "Autumn" oxidation wash, largely in tones of pale gold, bronze, orange and red, with touches of green. It's set with a cabachon of Baltic honey amber. The next pendant, a "Small, Simple Oak", was given another "Autumn" oxidation wash, this one more in greens and browns, edging the remaining silvertone. It is set with labradorite and peridot cabachons. The third pendant, a "Small Goddess", just has oxidized veins, and is set with spectrolite and labradorite cabachons.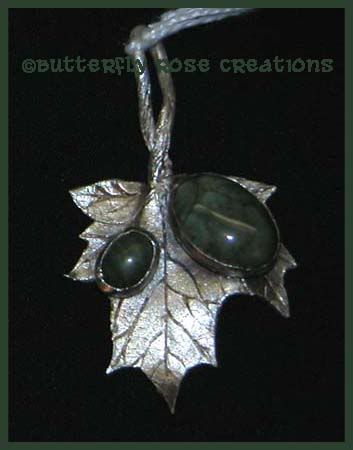 One more "Small, Simple Maple" -- This one has oxidized veins, and is set with cabachons of rainforest jasper, which is a varigated, marbly green.

Ten of them were large (around three inches)...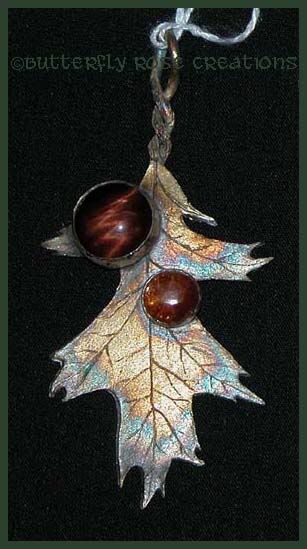 A "Large, Simple Oak" -- Given an "Autumn" oxidation wash of pale gold, bronze, brown, red, and green, it is set with cabachons of red tigereye and of sunstone. (The red tigereye is a very woody kind of stone, just like the standard blonde tigereye, but instead of golden blonde optics with the black, it's a rich mahogany red-brown. The sunstone is a glittery golden color, much paler in comparison with the tigereye than it appears in the photo.)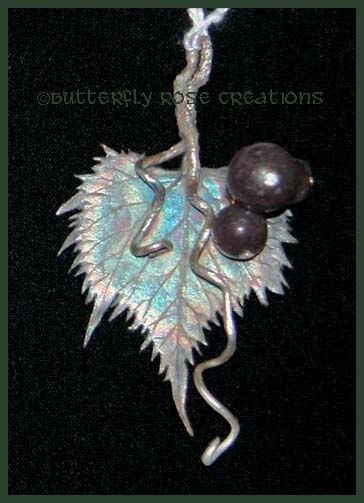 The "Large Bacchus" (Grapevine) is a new design. The leaf has been given an "aurora" oxidation wash, largely with flashes of greens and purple, with a bit of a golden fade to bronze at the edges. The silver of the vines is slightly dulled to make the silver tinted just a touch naturally. The "grapes" are three beads of lepidolite, which is actually a red-purple color.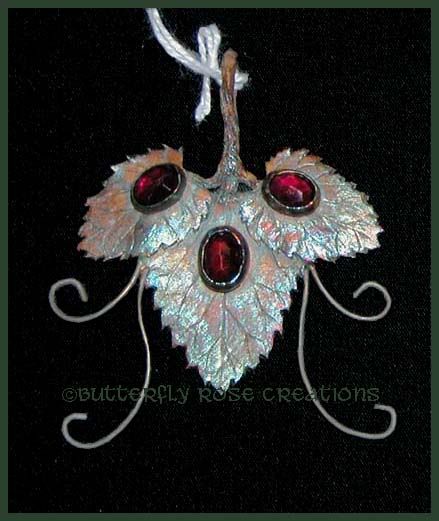 The "Large, Bleeding Heart" was one of the hardest pieces ever, to photograph. The three stones are faceted garnet cabachons, the trailing vines (which were made with sterling wire) are actually much darker than that, and the oxidation wash on the leaves is an extremely vibrant "natural" color scheme that I cannot even describe...but it's a lot prettier than the photo!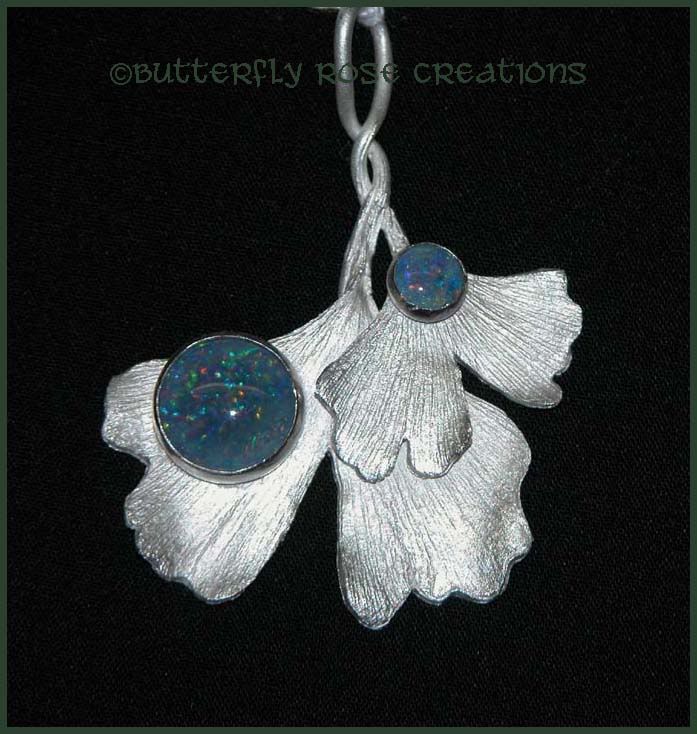 The "Large, Elaborate Ginko" has no oxidation on it...it's the bright and shiny natural color of the fine silver. It's set with two black opal triplet cabachons. Those into traditional Japanese pretties might have preferred a combination of red coral and turquoise, but I couldn't find stone samples that looked right together. I figured the colors in the opals would look lovely with any kimono's colorful array of fabrics.



The "Large, Elaborate Maple" is one of my most popular designs from this collection. It's got a "pale natural" oxidation wash (subtle iridescent tones of brown and green over the dulled silver), and the cabachons are fire-polished rhodolite garnets. Depending on the light, they glow a dark burgundy red, or show a hematite-like gunmetal mirror finish.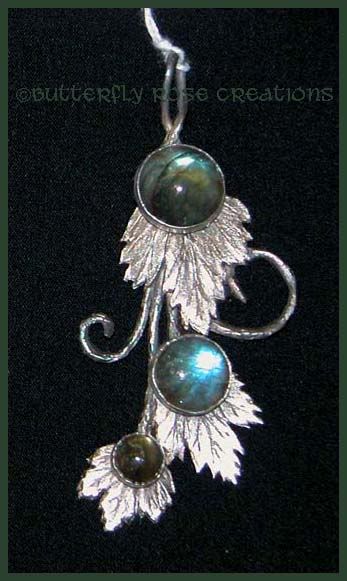 The "Large, Elaborate Ivy" is another popular one. It has oxidized veins and is set with three labradorite cabachons.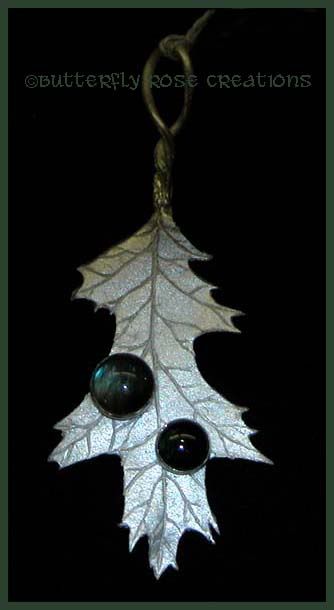 Another "Large, Simple Oak" -- This one has slightly dulled silver, oxidized veins, and is set with labradorite and green tourmaline cabachons.



Another totally new design, my "Large, Laughing Mother Earth". This one is a bit different, and a lot of fun. The veins are oxidized, the face is a carved moonstone cabachon, and the breasts are little rainbow moonstone cabachons. I didn't get a photo of it in different positions, but the face swivels slightly in its setting, so she can tilt her head at you.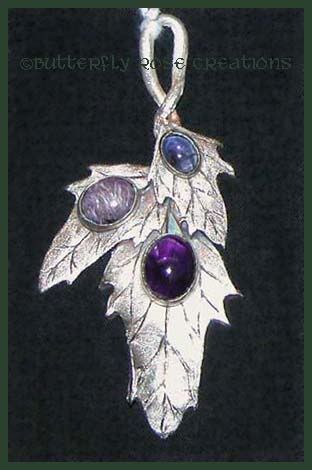 A "Large, Elaborate Spear" -- The veins are oxidized, and it is set with (from largest to smallest) cabachons of amythyst, charoite, and iolite.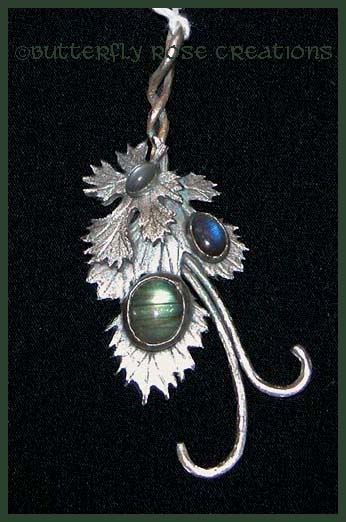 A "Large, Elaborate Tri-Lobe" -- Another design favorite of my customers. This one is set with grey moonstone, spectrolite (which generally appears darker than the photo makes it out to be), and labradorite. The finish was really hard to capture. The silver is dulled, with just the slightest green cast to it.