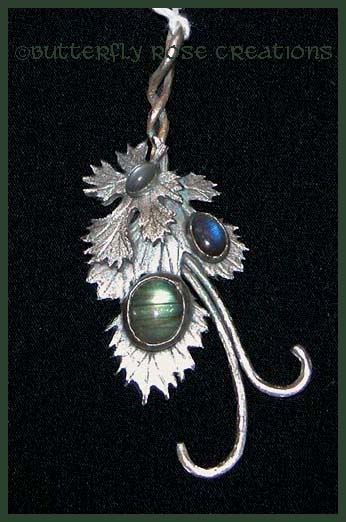 Part of the Butterfly Rose Creations Silver Leaves Collection, this one-of-a-kind, original-design pendant is hand-made from solid fine silver (.999 pure), sterling silver bezel settings (for strength), labradorite, spectrolite and grey moonstone cabachons (in order of descending size), and a "pale natural" oxidation wash (that could be removed to show the silver's bright natural coloring, if preferred). The whole piece measures at around 2.5"-2.75" long, depending on the angle you're measuring from, and the design is based around replicas of real leaves! Each leaf is used once, and destroyed, in the process of taking its impression, and no castings were made -- even among the few design replicas, no other piece will be exactly like this one. This piece of fine jewelry truly is wearable art, as unique as the one who will wear it.

Carry a timeless bit of the verdant woods into Winter with you....

~~~~~~~~~~~~~~~~~~~~~~~~~~~~~~~~~~~~~~~~~~~~~~~~~~~~~~~~~~~~~~~~~~~~~~~~~~~~~~~~
This is crossposted from my personal LJ and my Gallery LJ, to anywhere I can. Apologies to anyone that is sick of seeing it, but my family is dealing with a lot of financial hardship right now, and I'll spare you the sob story, but please, if you have a love of shinies, or have reason to gift someone who does...bid on my creation. Every bit helps more than you might imagine.

Contact references for previous customers of mine are available, if you want to ask someone other than me, what pieces like this, look like in person.

No, there will be no E-Baying. Not many people go looking around there, for things like this, and I'd really rather avoid the fees. The auction will be held HERE, in the comments of the post. The auction ends at 10pm central time, November 1st. Comments or questions are welcome, in the meantime. The high bidder winning the auction will receive the pendant, gift box, and certificate of authenticity, at the address of their choice. Since this came up the last time I auctioned off some of my pieces -- if you are intereted in a matching sterling chain, please contact me to add it to your order and order cost. I can ship internationally, I just don't know the rates off the top of my head. 2-3 day insured shipping within the USA tends to run around $7. Payments can be made via PayPal...if you don't have PayPal, we can make other arrangements.

Once again, the auction is being held in the comments of THIS post. The auction ends at 10pm central time, November 1st. Bid incrementally in standard auction fashion, since there is no E-Bay-esque function to invisibly track your competing bids, up until your limit...or just bid what you think the piece is worth, straight off, and be that nice to me. ;-) I will try to get on LJ daily or near-daily, and will edit the post, just below the piece, to reflect the current high bid. Bidding is currently at $110.

Thank you!